I've got a big news build up for you this time, so brace yourself. There's a lot.
1. THE AFTERLIFE OF HOLLY CHASE is going to be out in only TWO WEEKS! I had the idea for this novel years ago, so I am so excited for it to be finally seeing the light of day. Holly is the modern-day Ebenezer Scrooge, which was so fun to write. I can't wait for you to meet her. Go
here
to the book page where you can find out more and click one of these links to p
re-order:
HarperCollins
/
Amazon
/
Barnes & Noble
/
iBooks
/
Indiebound
the first hardcover has arrived and it is soooooo shiny
Look at the back! Gah!
I'm going to do a special pre-order giveaway-- the first hundred people who preorder the book (email me at writercynthiahand@gmail.com with a screenshot of your completed order) will get a personalized Holly Chase card, signed by me, and something from a fun selection of Christmas-oriented swag.
Show me that you're spreading the word about THE AFTERLIFE OF HOLLY CHASE, by tweeting about it, adding to your To Read pile on Goodreads, doing a post on your website or blog, or Instasharing, (again, email me with your screenshots or tag me in the posts) and you'll be entered to win even more great prizes, like:
a Christmas hat, knitted by moi
a pair of Christmas fingerless mitts, also knitted by yours truly
a special Holly Chase themed Christmas ornament
a signed and personalized hardcover of
The Afterlife of Holly Chase
signed copies of some of my other books
signed bookplates and bookmarks
and a bunch more!
So spread the word! And keep checking back, because there are going to be a lot more giveaways and fun events as we get closer to Christmas.
2.
The Afterlife of Holly Chase
is also coming to Australia on 10-23-17. I LOVE LOVE LOVE the cover--look!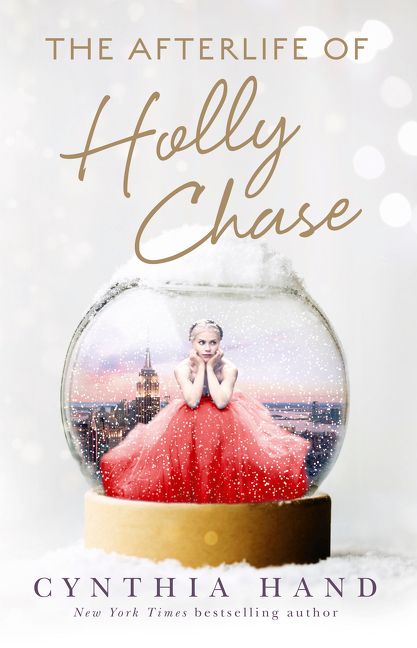 Squee! It captures the book so perfectly! I can't even!
3. I've also spent a big chunk of the past few weeks trying to get Holly Chase on the road to becoming a movie, which has been so exciting and stressful. (No movie news I can share yet, but I've got my fingers crossed.)
Me hanging out with Napoleon on the lot at Fox, where we were pitching TAoHC
So yeah, I have Holly Chase on the brain.
But . . .
4. The Janies also have a new book coming out--in June 2018, to be exact. And it now has a COVER. We will be revealing the cover TOMORROW, so head over tomorrow to
www.ladyjanies.com
to check it out.
5. It's fall! (Okay, this is only going to be news to people in, say, California.) Fall is my favorite season: I love sweaters, leaves, and KNITTING. I have been knitting up a storm.
You too, could have fingerless mitts, but these are mine.
6. I got a puppy. Her name is Poesy. The cats are not thrilled.
Poesy also clearly digs fall.
7. I'm going to be doing a few events around the release of Holly Chase, mostly in Idaho, but also in Miami and some other places. Check out the Events tab to find out where and when.
That's it--all the news I can think to share right now. Don't forget to enter the giveaway, and look for the MY PLAIN JANE cover tomorrow.
xoxo
C